EVA Hot Melt Adhesives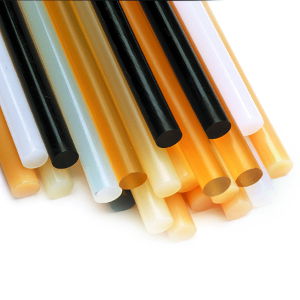 Ethylene vinyl acetate (EVA) based hot melt adhesives are used for a multitude of standard applications as they offer good value for money. They are often characterised in particular by short open and setting times.
In many cases, these types of hot melt adhesive are processed in stick form with glue stick guns, and they are often used in universal assembly bonding operations. EVA-based hot melt adhesives are now also an integral part of the packaging industry and can be processed in granulate form in large packaging systems.
Advantages of EVA hot melt adhesives

Attractive price-performance ratio
Short open and setting times

Proven technology

Excellent adhesion, even on difficult surfaces

Very wide range of formulation options
Ideal for high demands or short rest periods

Suitable for use in the food industry (FDA 175.105)