Hot melts from BÜHNEN – Hot melt is our passion!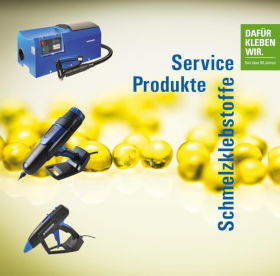 Our entire know-how and many years of experience go into the development of our hot melts and applicators. We are a medium-sized hanseatic company, run as a family business, and with a clear commitment to our Bremen location.
Our aim is to convince customers with the high quality of our wide range of products, dedicated, individual advice, competent service and far-sighted, application-oriented research and development. The fact that we succeed in this is shown by the very high level of customer satisfaction of companies from numerous industries: Customers have trusted our experience and our products for almost 100 years. In the process, we have continuously developed and adapted our portfolio of hot melts and melters.
With our versatile and modular range, we also have the suitable solution for YOUR application. Of this we are convinced!
Adhesive and tools from a single source
Our hot melts are used in virtually all production areas for permanent or assembly bonding, for securing materials, as a sealant or as casting compounds. BÜHNEN hot melts are solvent-free, thermoplastic one-component adhesives that are melted by heating.
Our principal has always been: First advise, then sell! Because for us, customer proximity means that our expertise and personal commitment is dedicated to providing tailor-made solutions for your individual needs. This inspires us anew every day. Our employees are constantly striving to find the best solution for YOU.
Suitable devices are required to process hot melts. Here, too, you can rely on us: For example, we offer hot glue guns for the processing of adhesive sticks. If your requirements are larger, we can supply you with any size of tank system.
Hot melts from BÜHNEN are indispensable in many industries