Hot Melt Adhesives for Display Production and Packaging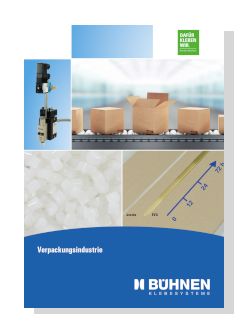 Flyer
Whether pizza box, tray packaging or display stand – hot melt adhesives ensure secure bonding in each of these packaging areas. Depending on the type of packaging and the material used, the Bühnen hot melt range offers a wide choice of products.
For the self-adhesive finishing of outer cartons which are used, for instance, in the mail-order industry, the Bühnen range of hot melt adhesives offers high-quality products based on thermoplastic rubber. These are characterized in particular by a high surface tack(iness).
Oxidation-stable adhesives have become established in many areas of packaging. Due to their sustained viscosity stability, the Bühnen avenia products ensure high process reliability during production. Cracking of the adhesive in the system is avoided, so that no high maintenance costs are incurred as a result of worn application technology.
More about self-adhesive equipment in the packaging industry.