The Heinz & Ilse Bühnen Foundation
The Heinz & Ilse Bühnen Foundation supports projects in Bremen that actively introduce children and young people to the visual arts.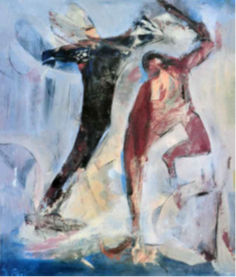 In 1984, the married couple Heinz and Ilse Bühnen established the foundation named after them to donate part of their wealth to society. Their concern to help the less fortunate was personal and motivated by a sense of social responsibility.
The concept of the foundation, which focuses on promoting cultural interests among children and young people, was in line with Ilse Bühnen's own artistic ambitions.
Her works received recognition at numerous national and international exhibitions. Her idea of passing on her enthusiasm for art to young people was realised by the Heinz and Ilse Bühnen Foundation.
Even after the death of the founders, the foundation, under the direction of Constanze Wriedt, daughter of the Bühnen couple, continues to support art projects in Bremen.
Arts promotion for children and young people in Bremen
The foundation sees itself as an initiator of new artistic and cultural developments and selects its sponsors with a focus on quality and professionalism.
Further information can be found at: http://buehnen-stiftung.de