BÜHNEN Hot Melt Adhesive Applications: Unbeatable Bonds.
Whatever the industry, whatever the requirements - the result is the same: BÜHNEN bonds hold. We promise.
Whatever your industry - construction or cars, floristry, electronics or the furniture industry - and whatever your applications - displays or packaging, polymer foams or textiles - you can count on us to provide the best possible product- and market-driven solution.
We offer a range of services based on the full service principle. From on-site consulting and tests in our own application laboratory right through to a 24-hour delivery service. Unique.
First things first: the right choice of material.
A perfect balance of adhesion and cohesion:with more than 500 different types of hot melt adhesive, our application laboratory is equipped for almost any task. And if a completely different solution should be called for, we will develop a bond especially for you. For every application we have the appropriate hot melt adhesive with the corresponding applicator unit!
It's good to have experience. It's even better to test things out.
We offer in-depth expertise in the field of hot melt adhesive systems. But that alone is not enough. Which is why we extensively test every proposed solution in our laboratory before we pass it on. This gives our customers the security they need - every time. Safety first.
The BÜHNEN Equipment Range: Everything You Need.
A perfect application should ideally include both the right adhesive and the right applicator. BÜHNEN has both. We are the only manufacturer in Germany to offer matching applicators for our extensive range of hot melt adhesives.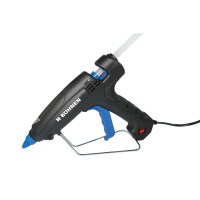 Devices characterised by perfect handling, reliability, low weight and outstanding melting performance.
For the processing of EVA, PO, TR and reactive hot melt adhesives. In 310ml cartridges or as a 200ml tank unit. Convenient control technology and functional device design guarantee safe use without fatigue.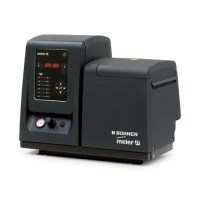 Unbeatable processing quality and a modular design permit the widest imaginable range of system solutions for virtually any application.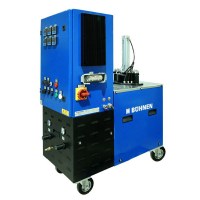 High melting performance, optimum pump design and an abundance of special accessories: an unbeatable combination for smooth integration into any production process. Your BÜHNEN expert will be happy to advise you - we're just a phone call away!
Application technology
Suitable for our tank systems: a comprehensive range of accessories and applicator heads for different situations and spray patterns, perfectly coordinated with your application. You will also find an extensive range of spare parts compatible with the products of other manufacturers such as Nordson, ITW Dynatec, Robatech and others.