Hot Melt Adhesives in the Electronic Industry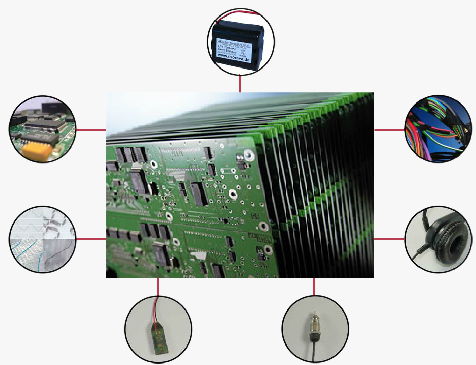 Hot melt adhesives offer many and varied solutions for the electrical industry.
Hot melt offers solutions in the coating of insulating materials, for securing electrical components against vibration as well as for fixing electronic modules on circuit boards.
Hot melts are likewise used in potting technology. To protect electronic components in the manufacturing of plugs or caps, the adhesive can be compressed into a tool mould at a low pressure of just approx. 2-50 bar. The advantages are obvious. Not only is the process chemically neutral and solvent-free – it also ensures a gentle treatment of components.
The parts of the electrical industry which have a lower glue consumption mainly use pneumatic hot melt guns of the HB 710 series. These tools gently melt conventional hot melt adhesives. For PA or PUR/POR hot melts, the special pneumatic hot melt guns HB 710 HT or HB 700 KD are used.