"Hot Melt Is Our Passion" – more than company policy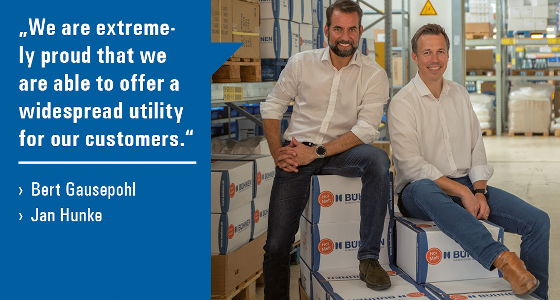 BÜHNEN is a company with a success story dating back to 1922. Since then, we have been able to constantly adapt our business model to the changes in the market environment. Once a pure mechanical engineering company became, first of all, a specialist in nail and clamp technology. Very early on, we began to focus on the connection technology of the future: gluing.
Our approach of suppliers of hot melt adhesives and devices together with a comprehensive consulting service has proven itself and is forward-looking. Bonding makes it possible to create stable, full-surface connections of materials, even with complicated structures and shapes. We support our customers in the selection of devices and hot melt adhesives and thus lay the foundation for a successful and reliable bonding process. This applies to the automated as well as the manual application of hot melt adhesives. It is precisely our extended expertise in the hand-guided application techniques that is an important part of our offer for many customers. These applications are mainly employed when automated application is difficult or even impossible, due to the complexity, the space available or the small quantities. Precisely in this case, it is important to have a partner at your side whose knowledge contributes to a secure bonding.
As a traditional family business in the third generation based in the Hanseatic City of Bremen, we attach great importance to providing our customers with optimal advice. We are convinced that this can only succeed if our employees have the necessary skills and are highly motivated. Advanced training, regular training courses and strong personal commitment contribute as significantly to this as high employee satisfaction.
The recent past has shown that we and our services are in great demand in other countries as well. Therefore, since 2008, we have been successfully establishing our business model in Poland, the Czech Republic, Austria, Slovakia, Hungary, as well as in the Netherlands and Belgium. The key to success here is a dense network of sales representatives who, with their comprehensive expertise, support customers on the spot with the development or optimization of their bonding processes. We also offer further support through our specialists at our headquarters in Bremen or the headquarters of our subsidiary BÜHNEN Polska Sp. z o.o. in Wrocław (Poland), who can always be called upon when additional expert knowledge is needed.
All these aspects, combined with a state-of-the-art product range and our 24-hour delivery service, are the factors that make us a valuable partner for our customers.
Yours sincerely
Bert Gausepohl,
Managing Director
Jan Hunke,
Managing Director