BÜHNEN - A Complete Supplier of Adhesive Systems
Take a load off your shoulders and profit from a Europe-wide unique combination of the system supplier for adhesive systems. Make your choice from over 3,000 hot melt adhesives, use the matching application technology, as well as compatible spare parts for most hot melt adhesive systems from reputable suppliers.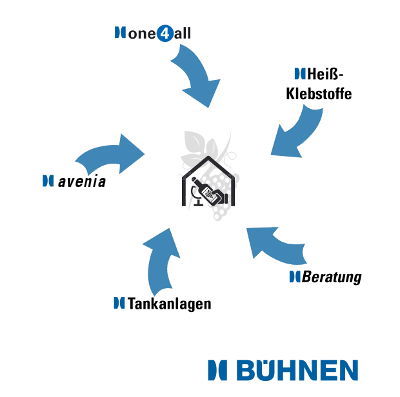 Since the founding in 1922, we have developed into a Full-Service company – always with maximum customer proximity! Thus, our sales force is available locally throughout Germany to provide expert advice on matters of adhesive technology. You can find more information on our story in the timeline.
With the avenia – oxidation-stable packaging hot melt adhesives, we are launching a strong team for user solutions from a single source. The short video presents the strengths of our packaging specialists.
Curious to know whether we can not only write beautiful texts?
We like to follow our words with actions - test us! We look forward to meeting you.