High-quality industrial adhesives: The right basis for numerous industrial applications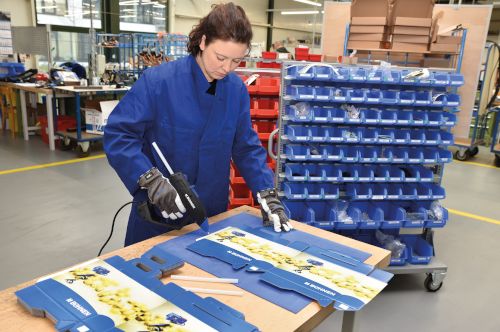 Industrial adhesive applications are characterised by the high demands placed on the know-how of the user. The adhesive bonds have to withstand intensive use as well as a long period of use. Taking this intensive use into account, we advise on the use of industrial adhesives in different fields. The industrial adhesives are manufactured on the basis of various recipes and have proven themselves due to their excellent product properties and reliable use. In the field of adhesive technology, we have developed into a full-range provider.
Adhesive for every application
The right industrial adhesive for every area of application
The industrial adhesives sold by us can be used in various areas of application. They have proven themselves in the electrical industry as well as in the construction and furniture industries. Adhesives are also employed in floristry and packaging. The industrial adhesives are available in different delivery forms. Therefore, the high-quality hot melt adhesives are available as granules, sticks and blocks.
Optimised for different areas of application
The industrial adhesives are optimised for different areas of application, where they offer the best possible properties. The hot melt adhesives are suitable for processing various materials and can be used for fixing flowers and wood as well as plastics and stoneware. In addition to a high melting capacity, the applicators from our range offer optimal properties for fatigue-free working. With the right equipment, nothing stands in the way of processing, even at low temperatures.