Mechanical Glue Guns
Mechanical hot melt glue applicator guns by BÜHNEN are characterised by their light weight and exceptional properties. To name just a few of their advantages, these devices show perfect handling, reliability and excellent melting performance. Their ergonomic fit and long triggers ensure effortless work. All our glue stick guns come with a standard nozzle.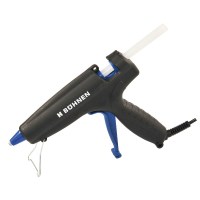 Our new basic model for 12mm hot melt sticks. Especially designed for minor adhesive consumption thanks to its light weight and easy handling.
Optimized handle and trigger for fatigue-proof work
small and handy
low operating force
universal stand, various possibilities to place the tool
available also with a UK-plug
packed in a carton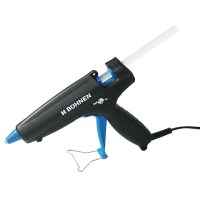 The glue gun for temperature-sensitive materials. The low-temperature version of the HB 181: Optimal operating properties at an economical temperature of 120°C for energy savings and reduced risk of burns.
Especially suited for smaller glue consumption
Low temperature 120°
Reduced risk of burns
Saves your fingers and materials
UK-version available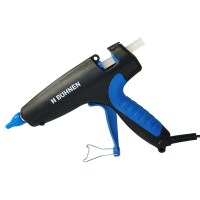 With rubber-coated slim handle especially well suited for smaller hands. Light-weight for fatigue-proof work.
Available in blister- pack or in a high-quality plastic case.
Especially well suited for small to medium glue consumption
Rubber-coated handle
Changeable nozzle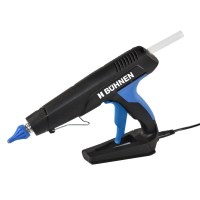 Flexibility thanks to changeable nozzles: the hallmark of the HB 196. Adapt the hot melt glue gun to your needs with a selection of more than 15 removable nozzles.
Especially well suited for a medium to high glue consumption and a vast number of applications
Extremely sturdy, detachable stands
Integrated on/off switch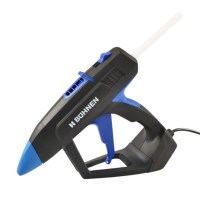 Pull-off forces reduced by 30% for fatigue-free working
Precise, electronic temperature regulation
Stroke limiter
Integrated on/off switch (illuminated)
Removable nozzle (standard diameter 3.0 mm)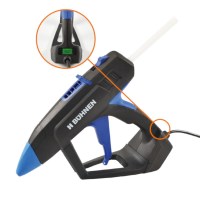 Pull-off forces reduced by 30% for fatigue-free working
Digital status display integrated in handle
Temperature locking
Stroke limiter
Removable nozzle (standard diameter 3.0 mm)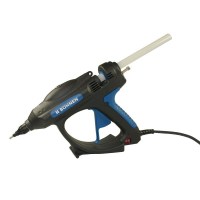 The HB 325 - a hot melt adhesive gun dedicated especially for professional use.
Especially well suited for very high glue consumption
Extra large adhesive supply
Mechanical stroke limiter