Hot Melt Adhesives for Automobile Industry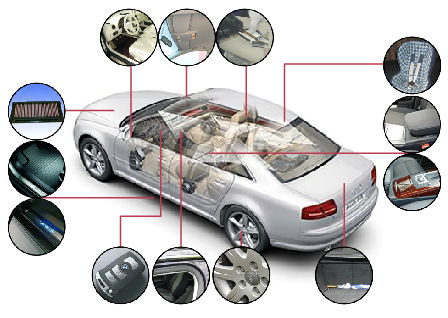 Hot melt adhesives offer versatile solutions for use in the automobile industry and are utilised when manufacturing car seats or fixing cables in the roof liner area, for example. Carpets and foam materials, for instance, can also be bonded with high-quality, highly temperature-resistant thermoplastic rubber-based hot melt products.
In the vehicle interior, reactive polyurethane hot melt adhesives bond door sill protectors or other plastic parts made from e.g. PP or EPDM. These PUR hot melts, which chemically cross-link when exposed to moisture, offer a variety of possibilities for structural bonds that need to be highly rigid and temperature-resistant. For this reason, the best-quality PUR hot melt adhesives of their kind are also used to bond emblems and anchor plates on gear knobs.
In the automobile industry, pneumatic hot melt adhesive guns from the HB 710 series are mainly used when only a small amount of adhesive is required. Conventional hot melt adhesives are gently melted in these devices. Meanwhile, special pneumatic HB 710 HT or HB 720 K hot melt adhesive guns are utilised for PA or PUR / POR hot melts.