HB 5000 series
The tank systems of the 5000 series include a gear pump and a coated 4.5 liter aluminium tank in the modern plastic housing. The application device is available for bead or spray application. All relevant hot melt adhesives, such as EVA, polyolefins, polyamides or thermoplastic rubbers are suitable as granules, pillows and blocks for the HB 5000 series.
Up to two hoses can be connected. A high melting capacity of 4.5 kg/h, a manually adjustable or programmable temperature reduction and possible switching to NI 120 characterize these devices. The applicator is easy to control and has a well-readable display with an integrated timer. The service-friendly, modular design of the system ensures maximum cleaning comfort and the filter integrated in the tank prevents contamination of the applicator heads.
Together with a hand gun HB 910, the HB 5010 tank system is particularly suitable for manual applications. With a gear pump capacity of 29 kg/h, the melted hot melt adhesive is constantly transported to the hand gun or to the connected automatic head.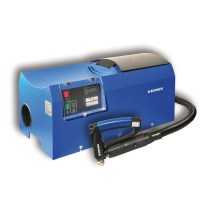 intuitive user guide
integral time switch
ligchtweight plastic case, modern and functional design
high hot-melting capacity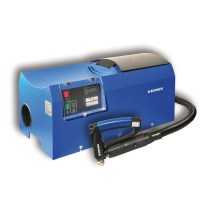 intuitive user guide
integral time switch
ligchtweight plastic case, modern and functional design
high hot-melting capacity