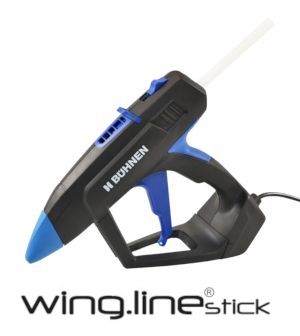 With the wing.line®-series we present our new product line. Developed in close cooperation with our users, we have placed our focus on a significant improvement of the work processes. The line starts with the wing.line® stick series of mechanical hot melt guns.
On the new HB 240 and HB 250, our Bremen-based R&D department was able to reduce the trigger pull forces by up to 30%, as you can see in the video.
Besides the optimized trigger ergonomics, the successors of our proven HB 220 and HB 230E now also feature an improved temperature regulation, as well as a "Ready"-indicator.
The wing.line-series offers you a higher performance in proven Bühnen-quality!

In the following next months, we shall extend the wing.line®-series even further. Subscribe to our Newsletter to stay informed at all times.