Improved ergonomics and a more reliable bonding process with patented technology
In many applications, adhesive application by hand is still the most effective way of combining two materials, even in a high-tech environment. It is not always easy to make the bonding process safe and economical. Two innovative devices from the new wing.line-series can provide support here. The HB 250 and – as the little sister – the HB 240 feature patented technology. The result: significantly improved ergonomics and more reliable adhesive application.

The devices for the processing of 12mm glue sticks, newly developed from scratch in Germany in close cooperation with users, have an innovative interior. The patent-pending technology reduces, amongst other things, the physical effort of pulling the trigger by at least 30% in comparison with other devices.
Ralf Zieseniss – Deputy Head of Electronic Production at Block Transformatoren-Elektronik GmbH in Verden, (Lower Saxony) – is very enthusiastic: "The co-workers in production feel that they need at least 50% less physical effort when applying the glue on the circuit boards".
Also ergonomically sensible: The trigger can be adjusted to hands of different sizes. "This protects the hands and leads, in combination with the very precise and stable, electronically-controlled temperature regulation, to a significant improvement in the work processes", says Christoph Zunder, Head of Product Management at Bühnen.
360° View
Advantages of the HB 240 / 250
Easier working due to at least 30%- reduced trigger pull forces
Fast operational readiness and continuous processing of larger quantities due to very high melting capacity
Process reliability due to new mechanical stroke limitation for precisely repeatable hot melt adhesive application
Compact device dimensions with new design
Closed housing
Removable stand
Balancer on the device
Integrated "ready" indicator
An integrated "ready" indicator signals the user after a very short heat-up time that the working temperature has been reached and that he can start the process. The mechanical stroke limitation keeps the required application amount at a constant level. "In this class there is no comparable device on the market", says Ralf Zieseniss from Block, who is also very happy about the excellent price-performance ratio of the HB 250.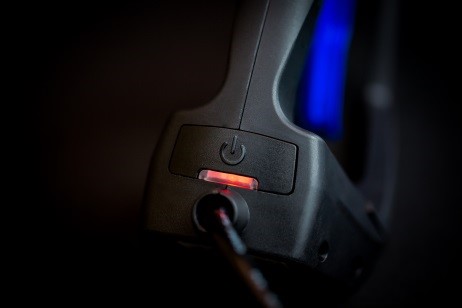 The new devices of the wing.line series mainly differ in the possibility of temperature regulation and in the power: Whereas the temperature of the HB 250 can be adjusted exactly by the user, it is set at 190°C in the HB 240. With a power output of 400W, the HB 250 enables – depending on the adhesive – processing of hot melts of up to 1.7kg per hour, and with 300W, the HB 240 up to 1.5kg per hour. Thus the HB 250 can, for example, also melt polyamide-based glue sticks at a processing temperature of up to 230°C.