Our Experience in Spray Coating for Your Projects
With many customers and successfully realised projects to our name, we can look back on 35 years of experience in spray coating. As early as 1979 we filed a patent application for this ground-breaking technique of hot metal adhesive coating.
The principle is actually very simple. As the thin adhesive leaves the nozzle, it is diverted sideways by an air vortex, carried along and applied in a circular pattern to the surface of the workpiece.
The technique does not coat the entire surface area with adhesive, but deposits fine lines of adhesive that meet in circles on the surface of the workpiece. Where the fine lines meet each other, they then form points which have a stronger adhesion. The advantage, however, comes primarily from the larger area which can be coated with a comparatively small amount of adhesive. The result is planar, particularly strong adhesion bonding.
The forms of application are many and varied:
You'll find our hot melt adhesive range here.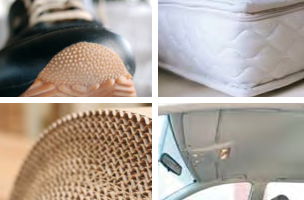 The hot melt adhesives used in spray coating should have a long open time and lower viscosity, since they cool rapidly after leaving the nozzle and the viscosity then rises rapidly, impeding a sufficient coating. Of course, the final selection of the suitable adhesive always depends on the application and the end product. Thus a hot melt adhesive with a shorter open time can certainly be used if cooling of the hot melt adhesive is slowed by preheated spray air.
Bühnen has for many years been a pioneer and market leader in the development and application of spray coating. This is reflected in our product range:
From pneumatic hand guns through tank and drum melter installation as well as specially developed hoses, application heads and nozzles, Bühnen offers comprehensive system solutions for spray coatings.
Our experts Christoph Zunder and Jens Dornis will be happy to support you in the development and implementation of your individual solution.