Mineral wool is often used as a non-flammable insulation material when thermally insulating a building. In this case the insulation materials are normally bonded with films of different types. Multiline application heads are often used to apply the hot melt adhesives to the films or the substrate materials. These special application heads are suitable for this process, because the structure of the substrate material is often uneven, the area to be bonded is large and the application should be applied evenly. Multiline heads are not identical to the multi-head system in which every head can individually be controlled.

The multiline heads for endless application are fitted with closely spaced nozzles. Several adhesive lines can be applied simultaneously with very close spacing. The system is known as a multiline application head from four nozzles upwards. Versions of up to 100 line nozzle fittings are being used by some customers at present.


Glass, rock or mineral wools are made from a wide range of raw materials which are melted during the manufacturing process. The resulting fibres are formed into mats using the basic drawing, acceleration and blowing processes. Depending on the field of application, nonwoven fabrics and films can be bonded to the mats.

The bonded layers can have different characteristics and uses:
protection against damage
can be printed with cutting patterns & fixing aids
colourful, bright nonwoven fabrics for optical brightening of rooms
water-draining, non-vapour-retarding layers
sound insulation
fixing aids
and many more
A good bond between two layers of strip-shaped materials, such as films or nonwoven fabrics with a mineral wool strip, can be achieved using hot melt adhesives. Bonding over the full surface area is required for lamination.
Why not use a slot coating head?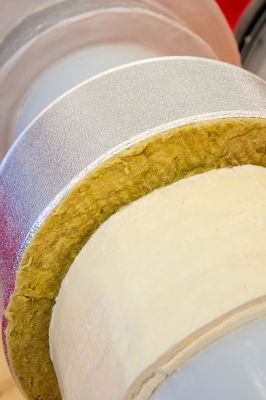 Slot coating application heads can be used for plane and smooth surfaces. However, these work with a contact to the surface. Slot coating application heads are rapidly weared due to the rough insulating material structure. Multiline application heads work without actually contacting the material. This means that the nozzles are less subject to wear and soiling.

The layer thickness of the applied hot melt adhesive is limited when using slot coating heads. When using multiline application heads there are more adjustment possibilities for adapting to the characteristics of the products.
Why not use spray application?
The heads in a multiline application have a module to which several nozzles can be connected. In the case of these nozzles the minimum spacing of 22mm can be fallen below. Perfect coverage can be guaranteed during gluing thanks to the low spacing between the nozzle tips.

If spray nozzles with such a low spacing were to be used the sprayed adhesive would contaminate the neighbouring nozzle. The resulting application image would be irregular and full of holes.