Bypass
Bypassing a flow for pressure adjustment and pressure limitation
The maximum pressure generated results from the play of the gears in the housing and the viscosity of the adhesive. For usual hot-melt adhesive applications, the pressure must be reduced.
This occurs by way of the bypass. This limits – comparable to a safety valve – the delivery pressure. A delivery pressure of between 10 and 60 bar is common.
Bypass with compression spring
As a standard, melters have a bypass with a compression spring. The pressure generated by the gear pump is applied to a piston, which is pressed against a seating by a spring. A screw can be used to change the initial tension of the compression spring and thus the adhesive pressure. As the pump builds up a constant delivery pressure, the excess adhesive delivered must be fed back into the tank via the bypass.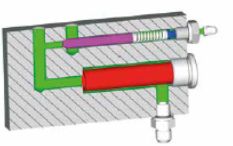 Bypass with compression spring
Pneumatic bypass
As an option for special applications, a bypass is available in which the spring is replaced by a pneumatic cylinder and a pneumatic pressure regulator. This means that the delivery pressure can also be regulated during the application, e.g. low pressure at the beginning and high pressure at the end of an application. Such systems are used, among other things, in casting technology.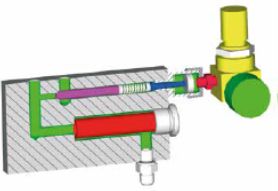 Bypass with compression spring
Optionally, the speed of the motor can be regulated with a frequency converter in order to adjust the delivery rate.
Video: The functioning of a gear pump