Hand gun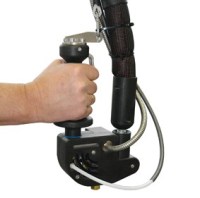 Hand guns are used for the manual application of hot melt adhesives to tank systems. An adhesive flow is released and applied to the substrate by means of a mechanical trigger/ lever. In addition to the free application, there are also electronic control units that always apply a consistent amount. As a general rule, bead, dot or spray hand guns are used.
In order to promote the most ergonomic working and to minimize physical stress, there are, in addition to hand-held guns with a side-connected hose, stick-handguns, whereby the hose is attached from above. With the help of a balancer, the handgun can be hung above the workplace, thus avoiding bending down movements and reducing the weight.

Handguns are heated separately as part of the adhesive flow and have their own control with Ni 120 or PT100 sensors.