What is surface tension?
It is the stress acting on a surface that tends to reduce the surface area.
Surface tension is a pulling force that is localised on the surface of, for example, liquid hot-melt adhesive. Its direction of action is parallel to the surface liquid. Accordingly, a liquid surface is always under tension.
When other forces work on a drop of hot-melt adhesive, its shape deviates from the spherical one. An example of this are drops of adhesive on a solid surface, where additional attractive forces act between the solid and the adhesive (adhesion).
The more the shape of the drop deviates from the spherical and wets the surface of the solid, the higher the adhesion between the solid and the liquid adhesive.
The higher the surface tension, the better the wettability (and thus also the bonding ability) of the surface.
Surface tension can be measured using the test ink method: a test applied to, for instance, plastics. A coloured liquid ("ink") with a defined surface tension is applied to the surface to be tested by means of a brush.
When the surface is wetted by the ink (meaning that the brush stroke persists for > 3 seconds without contracting), the surface tension of the tested surface is equal to or greater than that of the test ink.
If, on the other hand, the brush stroke contracts within 3 seconds, the surface tension of the tested surface is lower than that of the test ink.
Surface tension using the example of a water drop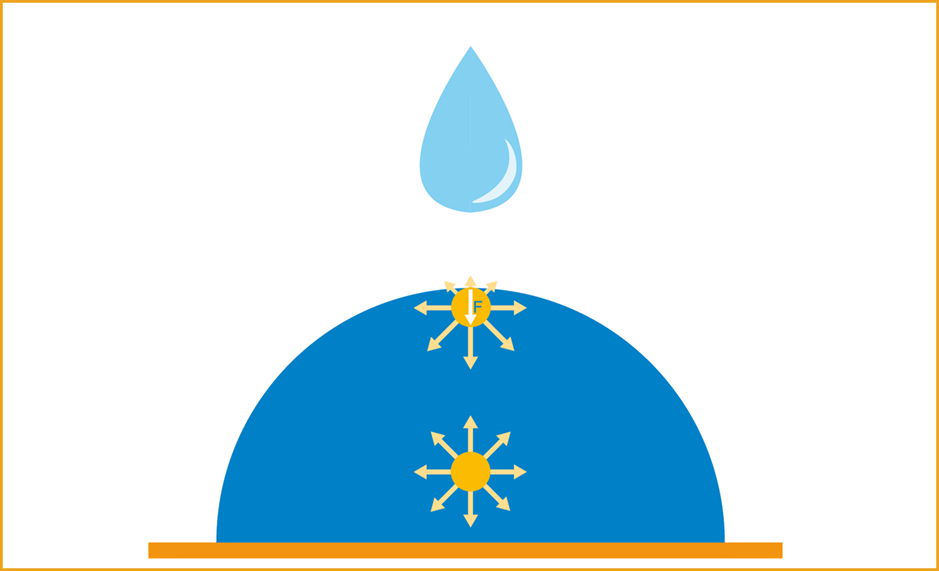 Source: IVK, Die Kunst des Klebens ("The Art of Gluing"), Fig. 6, p. 17
The surface of a liquid behaves like a stretched, elastic film. This effect is what causes water to form drops, for example, and contributes to the fact that some insects can walk over water, or a coin "floats" on water.